Connected Mobility
Design Research
Connected Mobility

A Speculative Look At Autonomous Car Experiences
Sponsored Project by Intel, Jaguar, Art Center College of Design
Collaborators: Shan Shen
Instructor: Ben Hooker (Designer, Professor)
Role: Writer, Storyboard, Researcher, Film Editor
Project Brief
This research project investigates a possible future of augmented automobile experiences for both manual and self-driving vehicles. Using applications like video chatting, virtual navigation, content sharing and social networking, can change experiences within a car, while at the same time re-imagine the experience of transit infrastructure design, such as free way lane sharing and virtual-driver navigation.
The near future of automation and self driving cars will give way to experiences that rethink our relationship to the "driver at the wheel." From holographic projections to augmented reality HUD screens, technology and the computer will transform the driving experience in endless possibilities including ease and comfort.
FINAL CONCEPT FILM
01: Field Research
During the initial phase of the project, we explored 3 main pioneers in the autonomous industry. We traveled to San Francisco for 1 week where we got a tour of the Google Car, went inside Intel's Labs and their sensor technology being developed specifically for drivers and Bosch's headquarters. We gained insight on a lot of the perils facing the current car industry and ways to adapt to the new role of the "driver". It was our turn to turn these findings into opportunities for design.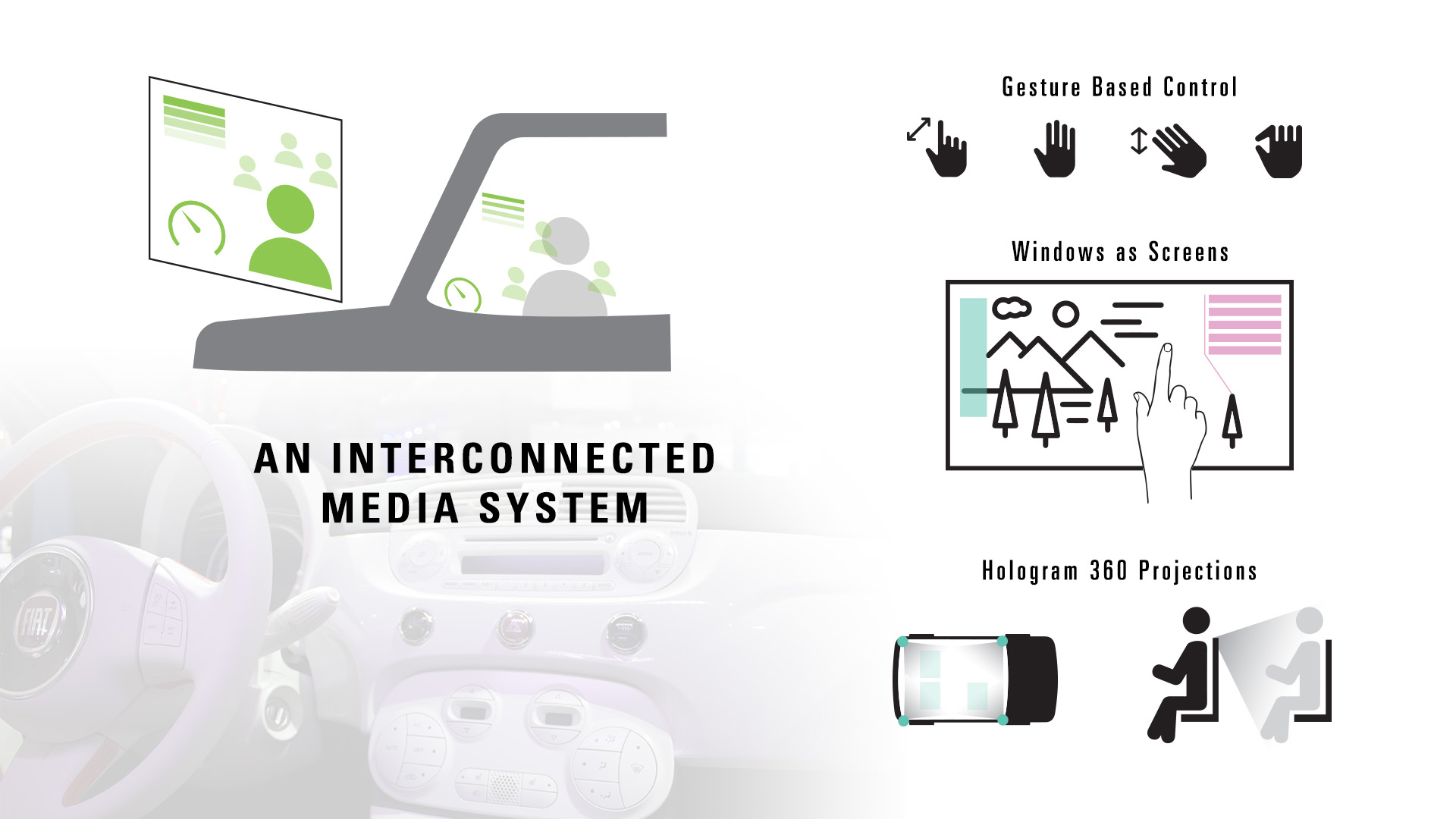 02: Design Opportunities
New Ways of Socializing
New Media Experiences
New Temporal Communities
Alongside technology, our need to be connected and socially engaged with one another and our friends have exponentially increased in our present age. Social media and the sharing economy popularizes the ability to meet and trust strangers. Even apps like Lyft and Uber enables casual exchanges, where strangers sit in conversation to their destination – highlighting the casual manner and social experience of the ride. This hyper commoditized exchange of ideas, projected self image and social play continues to grow as our need for being ever connected and plugged in becomes the everyday.
In the future reality created in Connected Mobility, we explored the future social media landscape of the present and the culture of the sharing economy. With the ability to use a wide range of sensor technology, networked communication systems and the full encapsulation of the user in the car, technology stands as an open playground for how users will want to engage with these gadgets. The smart self driving car is able to bring social media into a more tangible and immersive virtual space.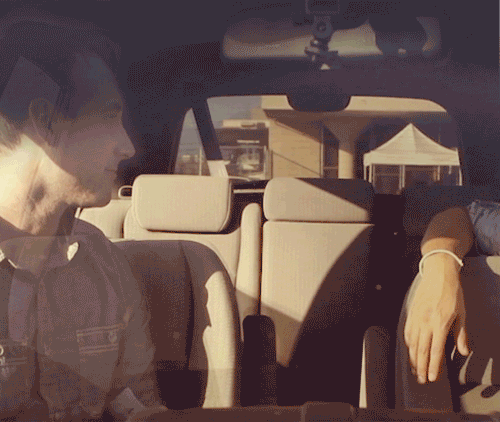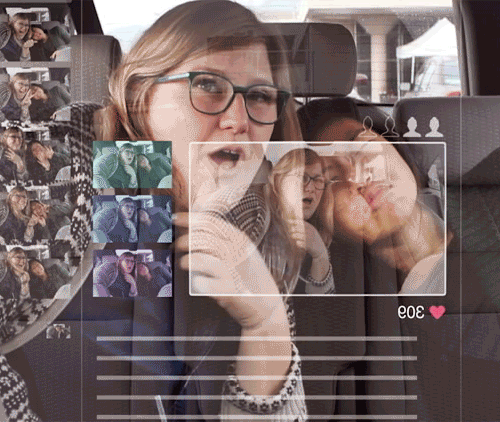 NEW SOCIALIZATION
The main character Seth, invites his from to hang out with him in traffic as a holograph projected from the interior projectors. This kind of functionality gives way to virtual hangouts between cars beaming from one side of town to another.
NEW MEDIA EXPERIENCES
Autonomous cars will be able to carry a whole number of front, rear and interior cameras. Such displays can act as self streaming live video feeds. Why not host a show in your own car or have others tune into your live streams? Most of the traffic jam is probably flipping through the channels from the cars down the lane to see the car crash up ahead, but users can also use the Car-to-Car CAMShare to see other local drivers. As a connected network, these cars can send messages, play games and holo-hang out together.
NEW COMMUNITIES
Temporary traffic friends are created in freeway traffic through the use of the interconnected social media among the stalled cars. Taking our social media towards a kind of tangible media, people can come and go inside a user's car, drivers can date, and friends can holographically join you for a joy ride.